posted by VJ on Dec 12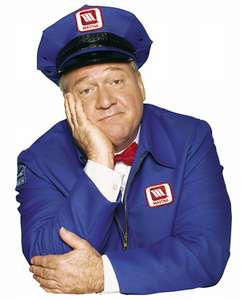 I miss my old dishwasher.
We've been living in this house two years now, and every time I operate the dishwasher, I miss my old one.
When we moved in, I suggested we swap the dishwashers. After all, it was one of the first things I changed when I bought my last home. The unit I inherited when I moved in there was broken, and the seller gave me a little bit off my purchase price to replace it myself. I was secretly thrilled. I knew I was replacing it anyway.
My grandfather worked at the Maytag factory in Newton, Iowa, for 50 years. Retired from the factory with a gold watch and everything. He might have been a Stabilizer.
Newton was a factory town. The community revolved around the Maytag company. Once a year they held a "Maytag picnic" in a big park, and all the employees and their families would turn out. I think it was bigger than a county fair! My grandmother would enter pies and plants in various contests, and they provided rides and entertainment for kids everywhere. They even served Kool-aid agitated in Maytag washing machines! They'd ladle it right out of the washer tub. (I've never forgotten that.)
In the evenings, they would feature free entertainment in the "Maytag Bowl," and I remember sitting together with the whole family, mesmerized by the performance of a live orchestra accompanying someone like the tap-dancing child "Jenny Tu." I may have wanted to be the magical Jenny Tu.

Because of the family loyalty to the brand, we always had Maytag washers, dryers, and dishwashers — even though they cost a little more.
I got spoiled.
When I would visit other people's houses, they would diligently rinse and practically *wash* all of their dishes before loading up their dishwasher, which only did a mediocre job of washing them. What was the point, I wondered.
So when I moved in to my previous home, I marched myself down to Circuit City and bought a brand-spanking-new bottom-of-the-line Maytag dishwasher, to be delivered immediately.
For 8 years, that dishwasher made me happy — never a lick of trouble. It ran like, well, a well-oiled machine. Heaven! (I hate washing dishes.)
Then we moved.
The new house had a stainless steel, top-of-the-line Kitchen-Aid. It was pretty, but the racks weren't adjustable, and it didn't fit my large dishes. I used it grudgingly.
I was in a quandary — I didn't know whether to keep it, or trade it. You know, switch it with the old one I was used to. The old one that was eight years old by now. How much life was left in that ole gal?
We visited stores, called repairmen for advice. It was mixed. Half the repairmen said stick with what I had; half the repairmen said the Maytag was superior. One said it didn't matter. Argh!!
Every time I loaded the dishwasher up, I wondered (usually aloud) whether I should swap. Then we sold the old home and that option vanished. So now I wondered (usually aloud) whether I should've swapped.
Sometimes I'm a slow learner.
One day the stainless dishwasher malfunctioned. The soap dispenser didn't automatically open.
We called our home warranty service and registered a claim. They had a repairman in to look at it, and he fixed it.
Except he didn't.
So I complained, and they sent another repairman to visit.
He said he would order a new part.
This was an opportunity! I talked it over with my husband, and we decided we'd replace the whole unit (with a Maytag) rather than fix it. The warranty company would give us a healthy discount on a replacement. YAY!
Except…
The original Maytag brand had been sold, and was now a division of Whirlpool… and they didn't manufacture the model I liked anymore. It was discontinued, unavailable. We visited several stores, and I couldn't find a unit with all the features I wanted! Even the very top-of-the-line unit didn't have the features my old unit did. Can you believe it?
Finally we bought a medium-range stainless steel unit. My husband picked it. It's pretty.
Who cares? Every time I use it, I miss my old Maytag. Still. Two years later.
The irony is that I can't remember what I had for lunch today; I can't remember what my Cousin DeeDee looks like; I can't remember much of my childhood; I have no idea where I left my glasses — but I can't stop mourning that doggone Maytag dishwasher. It's like an obsession, except it isn't.
I think this must be what demonic Si feels like.